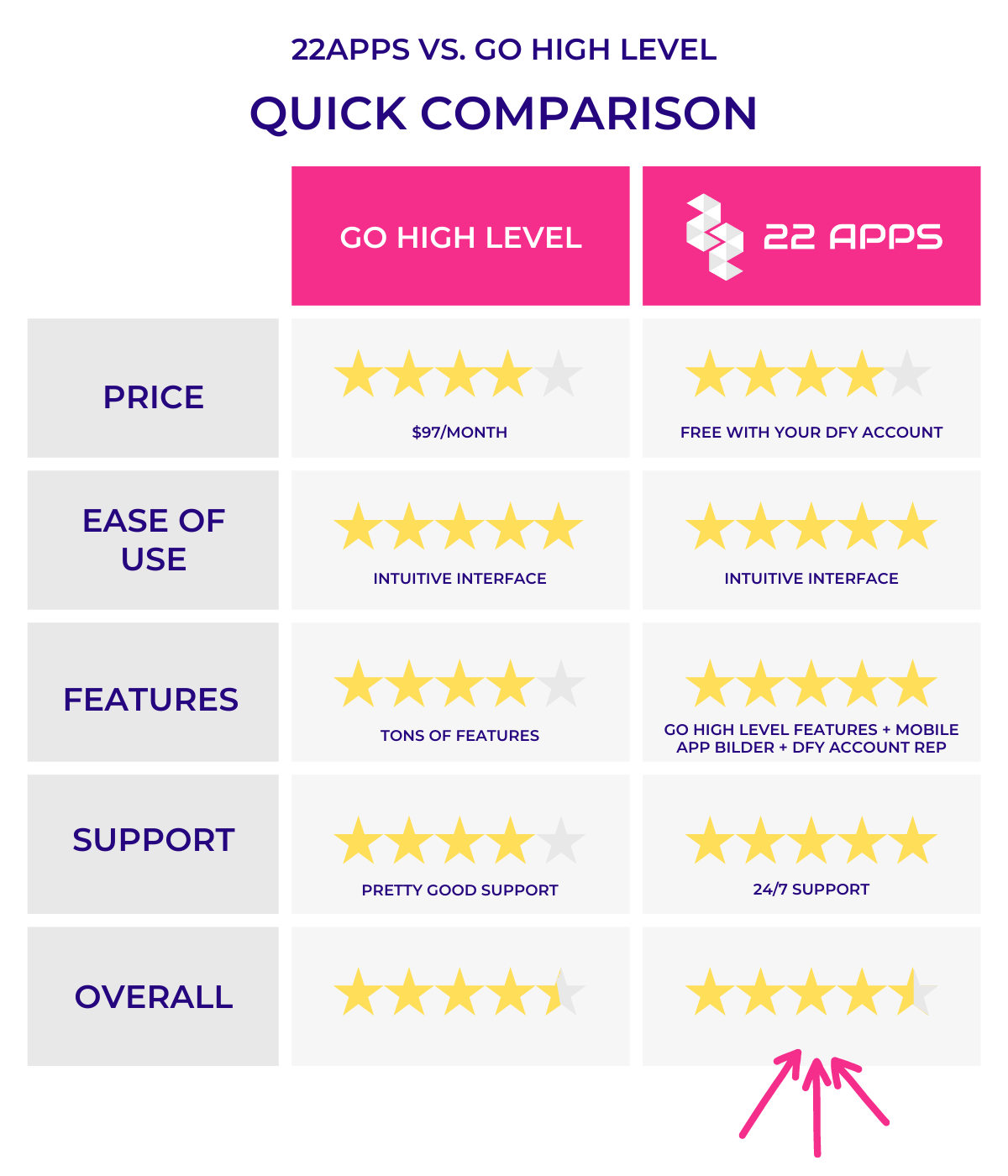 THE BIGGEST DIFFERENCE BETWEEN 22APPS & GO HIGH LEVEL
We can't lie, GoHighLevel is one of the most innovative software on the market right now. It offers almost every single marketing feature you could ever need and is pretty intuitive and easy to use. It truly is one of THE BEST platforms you can use for your business.
That's exactly why we decided to white label GoHighLevel for 22apps so that we could make the most powerful marketing platform ever. We've even added additional features (such as a custom mobile app builder) to make it even better. And, to really knock things out of the park, we offer our Done-For-You services to help you save precious time when it comes to marketing your business.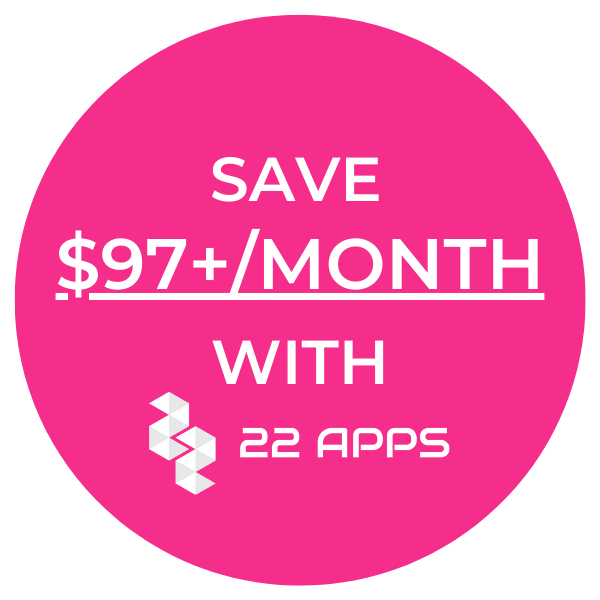 PRICING
The lowest GoHighLevel plan starts at $97/month while the 22apps platform is included FREE with your Done-For-You account.
Alternatively, a standard 22apps license (aka without Done-For-You support) is only $97/month and includes all the features of GoHighLevel PLUS more. Check them out here.
EASE OF USE
The GoHighLevel and the 22app platform are essentially the same when it comes to their ease of use. They both have an intuitive user interface that makes them easy to navigate.
However, with a 22apps Done-For-You account, you don't even have to worry about using the platform at all because we set everything up for you! This is one of the MAJOR benefits of using 22apps over GoHighLevel. You get to save time & money while still getting your high-converting marketing campaigns built.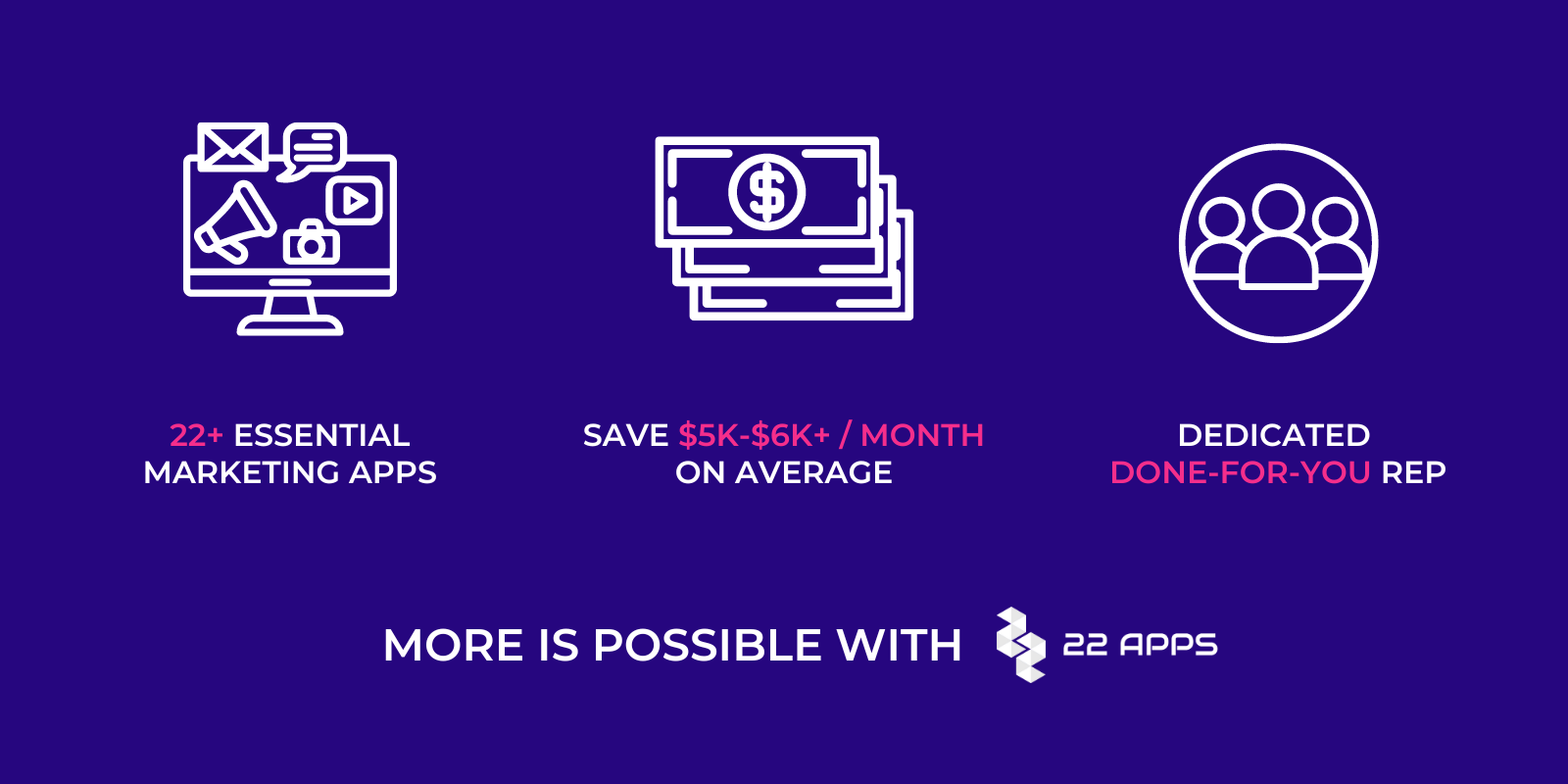 FEATURES
One of the main differences between GoHighLevel and 22apps is that 22apps offers an app-building feature that allows you to create your very own mobile app for your business!
The 22apps app-builder allows you to house all of your content - videos, podcasts, blogs, resources, etc. all in one place. It's like a little home for your business. Your users will be able to access your content in seconds and, since your app will take up real estate on their phone screen, they will be more likely to interact with you and your content more often.
You'll also be able to send customized push notifications to your users, reminding them to register for your webinar, check out your new blog post, or purchase your new course. Push notifications are highly effective at boosting sales and engagement through your app - better than social media marketing and email marketing combined.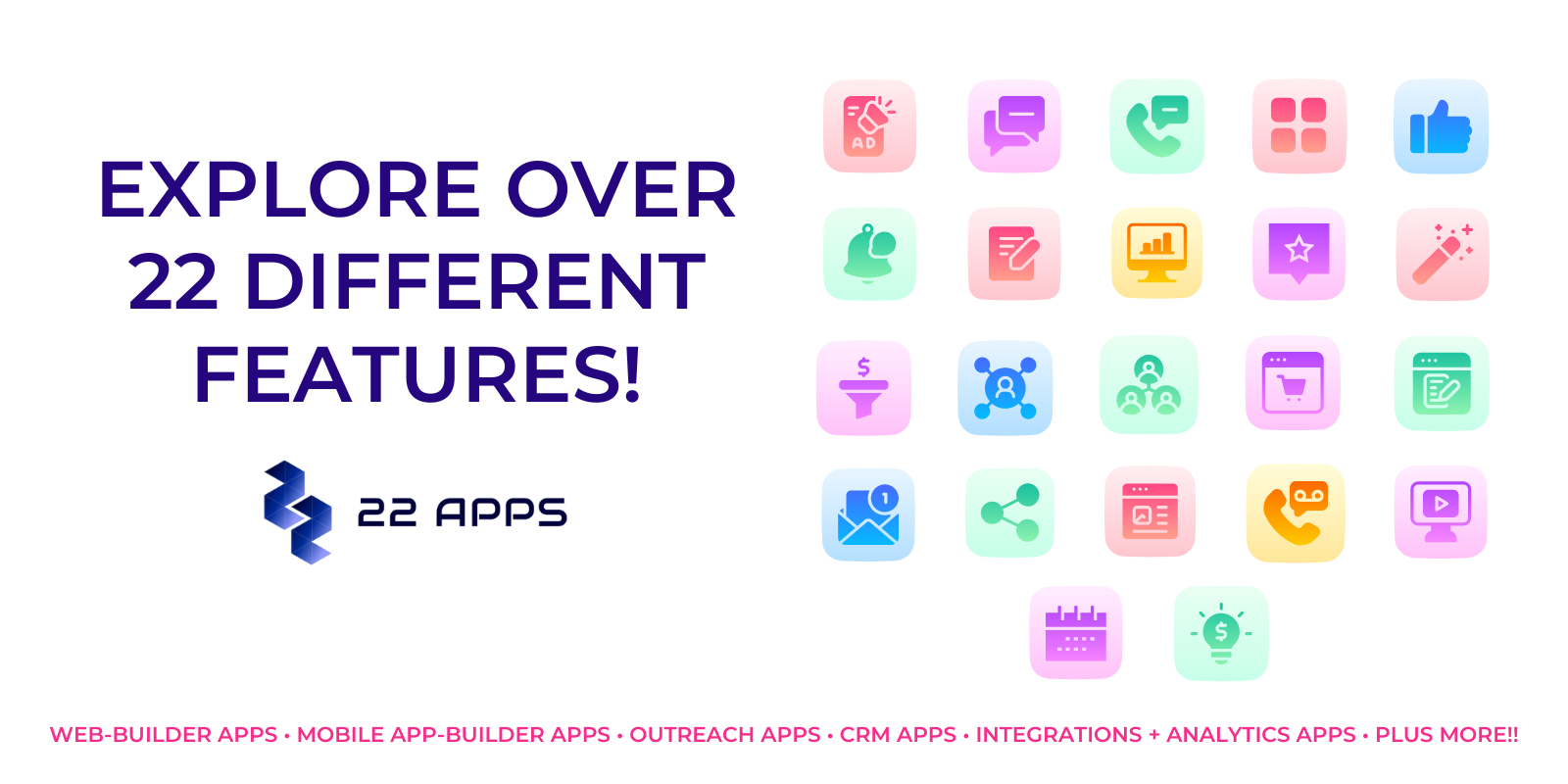 SUPPORT
GoHighLevel has a large variety of support docs and offers 24/7 call & chat support to help you with anything you need.
This is great, however, with 22apps, you get a dedicated account rep with access to them via text, call, or email, so you always have a direct line to contact them with whatever you need. They'll already be familiar with your business and marketing funnels, so they'll be able to assist you better than a random support rep can.
In addition, we also offer emergency calls, so if you have a time-sensitive problem, you can contact us at any time (whether it's 11pm or 3am).
OVERALL WINNER: 22APPS
22apps is essentially the same as GoHighLevel except with a few additional features added in, including, complete and total Done-For-You account support! We essentially took one of the greatest marketing platforms on the market (GoHighLevel) and made it even better as 22apps!

Get your 7 day free trial of 22apps INCLUDING done for you service NOW