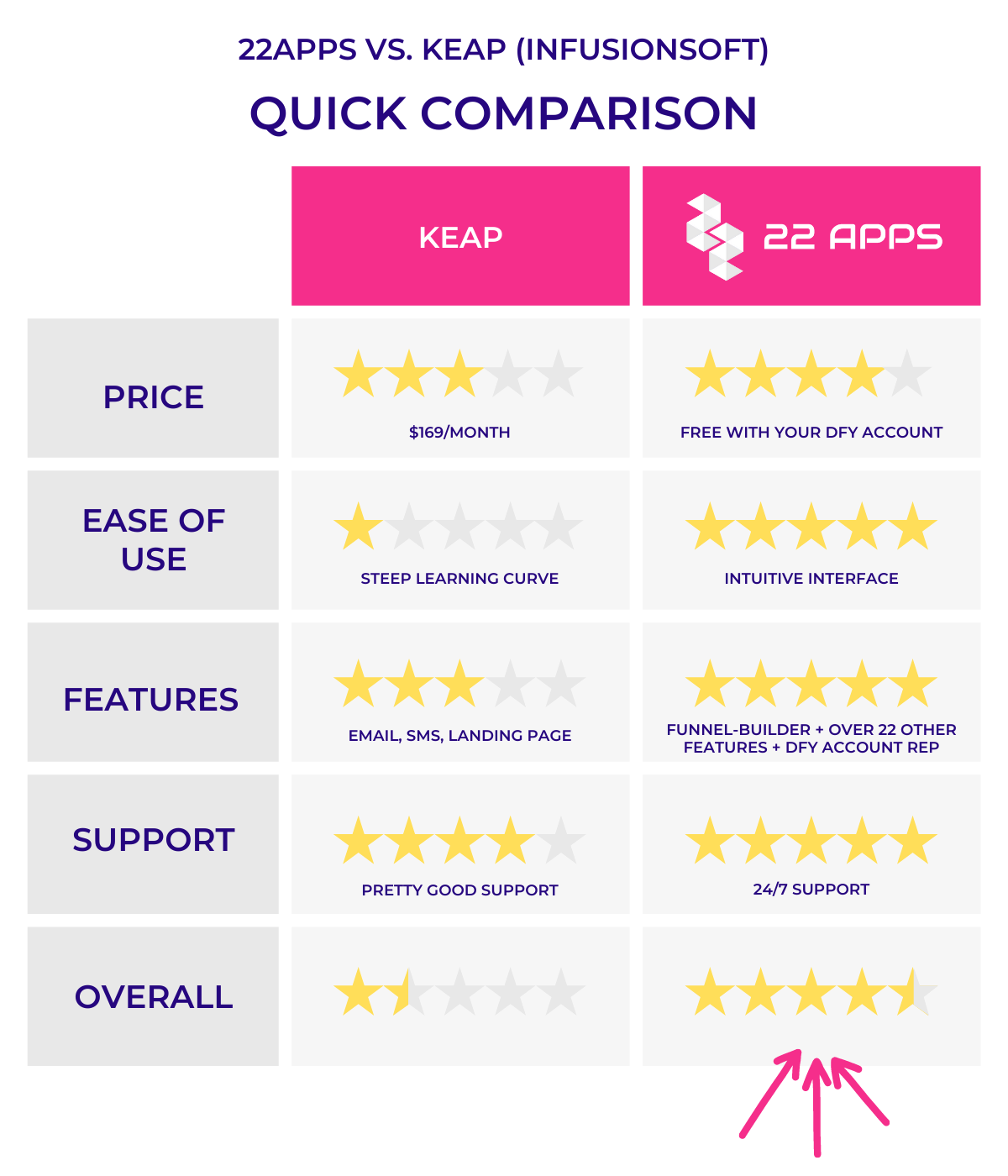 THE BIGGEST PROBLEM WITH KEAP (INFUSIONSOFT)
Although Keap (formally Infusionsoft) is an amazing email marketing software, one of its biggest downfalls is how confusing the software is. Because of this, most entrepreneurs and marketers can't even take advantage of the full features it has to offer.
This is where 22apps comes in - to help ease the confusion when it comes to marketing your business.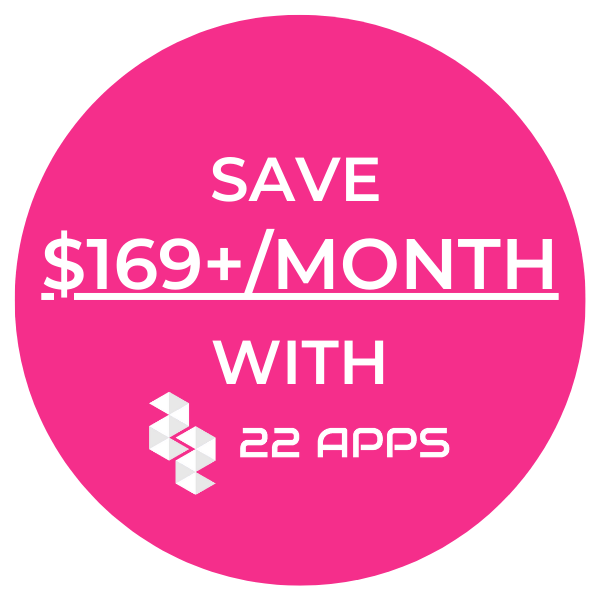 PRICING
Keap's pricing is based on how many contacts you have, with their basic plan starting at $169/month for only 500 contacts.
At 22apps, we don't believe you should be punished for successfully scaling your business. In fact, the 22apps email builder is included FREE with your Done-For-You account (no matter how many contacts you have!).
Alternatively, a standard 22apps license (aka without Done-For-You support) is only $97/month and includes over 22+ other features besides the email builder. Check them out here.
EASE OF USE
Unfortunately, Keap has a pretty steep learning curve and is not the most beginner friendly. You may find yourself spending hours figuring out how to use the platform's features and set it up in a way that works for your business.
22apps on the other hand was designed with a simpler and more user-friendly interface overall. It's easier to build and manage your email campaigns, even as a beginner.
Even better, with a 22apps Done-For-You account, you don't even have to worry about setting up your own email campaigns because we do it for you! This is one of the MAJOR benefits of switching from Keap to 22apps. You get to save time & money while still getting your high-converting email campaigns built. We'll even help you migrate all your Keap campaigns over to 22apps for you.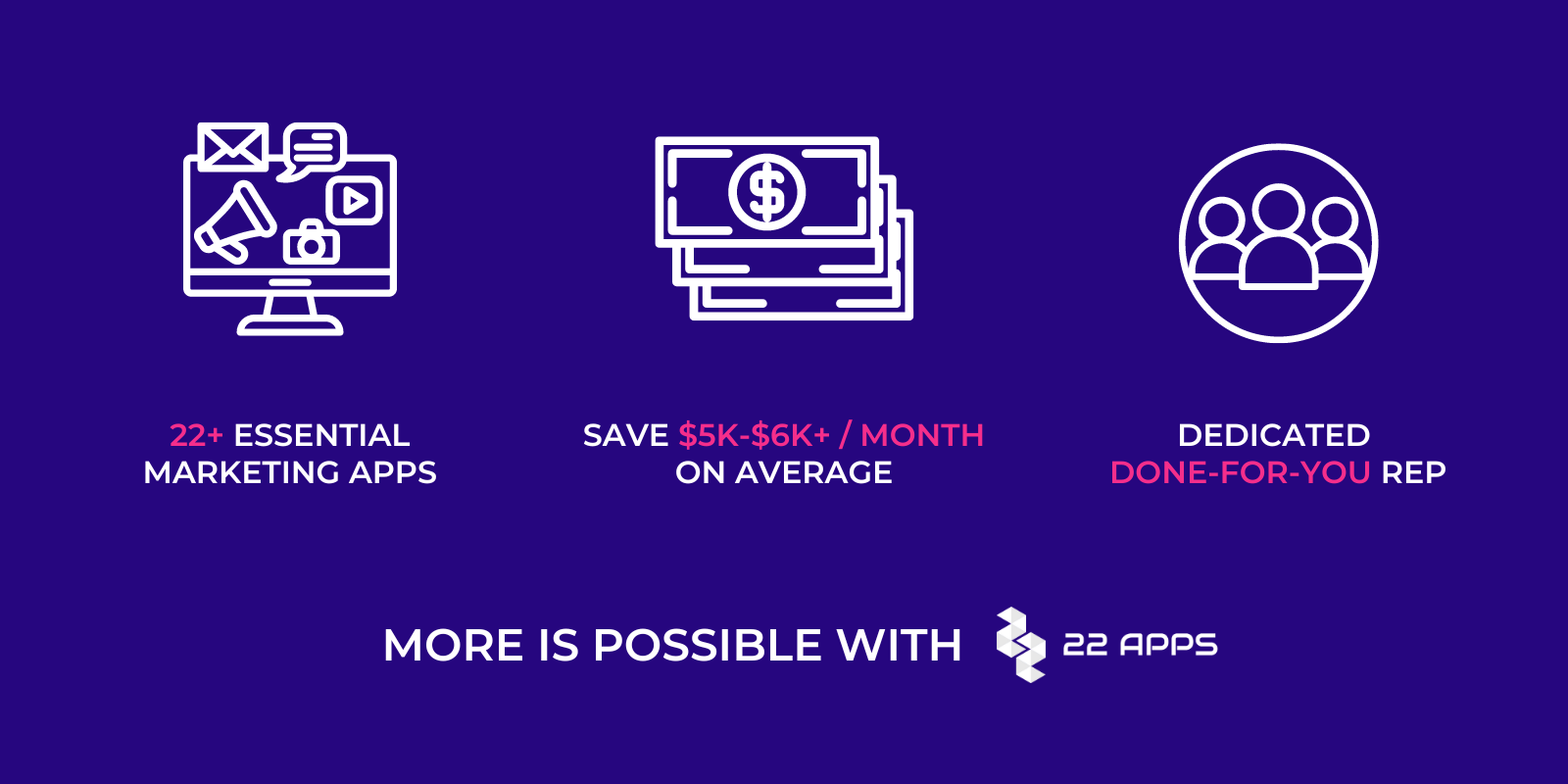 FEATURES
In addition to spending hours figuring out the platform & how it works, you'll also have to spend hours integrating Keap with your other marketing software. Although Keap offers email marketing, SMS marketing, landing pages, and appointment booking, there's a lot more that goes into your marketing strategy that Keap is lacking.
With 22apps, you not only get all the features you'd get with Keap, but you also get a complete funnel-builder that rivals Clickfunnels, a membership site builder, affiliate tracking software, a website builder, and more! (See all of our features here) 22apps allows you to engage with more leads with less effort and create and manage high-level nurturing programs.
Plus, our SMS marketing is a 2-way channel, meaning not only can you send texts to your audience, but they can also reply BACK to you! Whereas with Keap, you can only send texts to your customers.
And again, with 22apps, our Done-For-You team will help you build out all these different aspects of your marketing campaigns for you so you can save time and energy.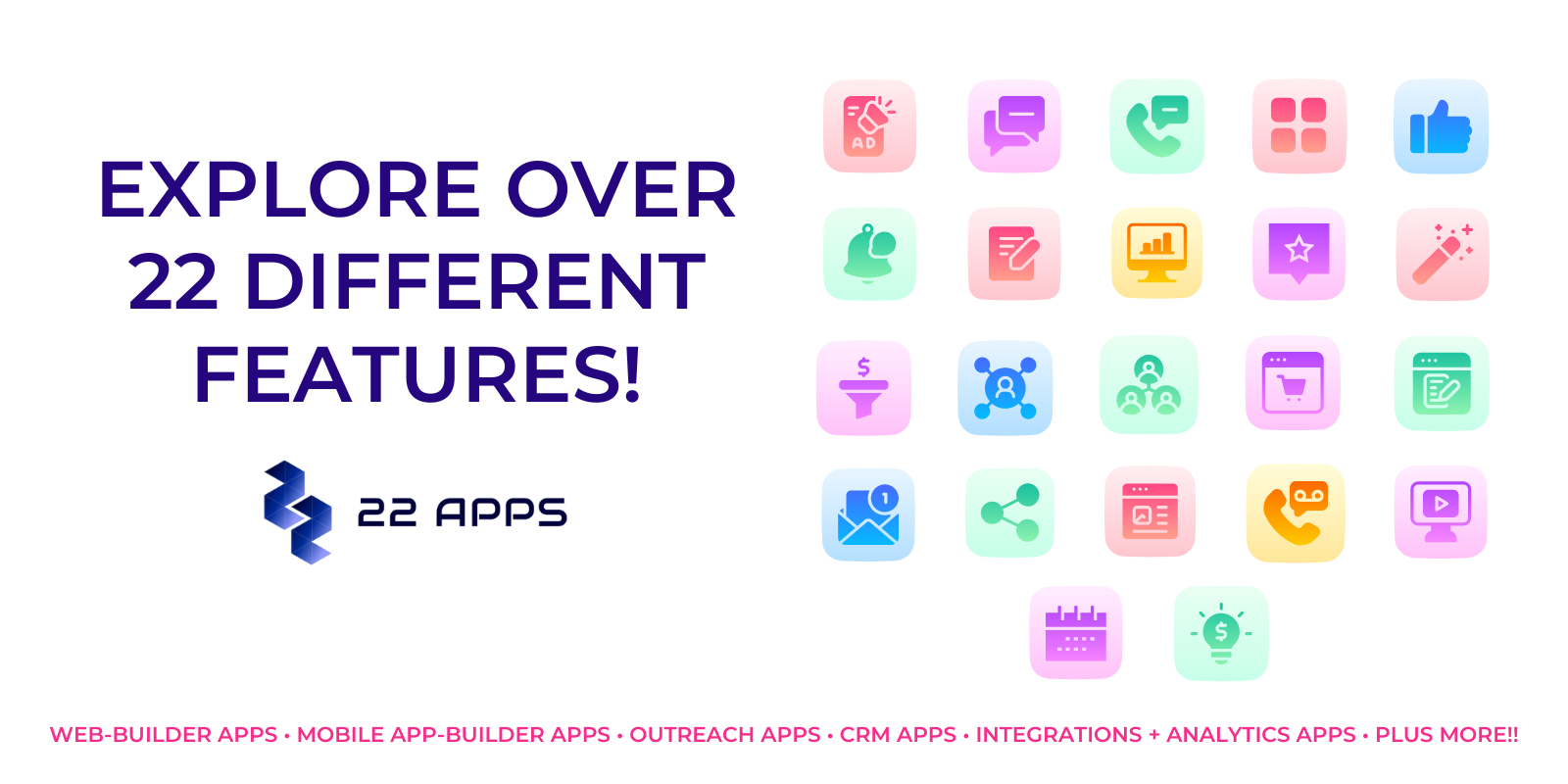 SUPPORT
On average Keap users rate their customer support an 8.5/10. This is pretty good, but for such a confusing software to work with, we'd love to see that score be a little higher.
With 22apps, your Done-For-You Rep is there to support you whenever you need it. You have access to your rep via text, phone call, or email, so you'll always have direct communication with them. In addition, we also offer emergency calls, so if you have a time-sensitive problem, you can contact us at any time (whether it's 11pm or 3am).
OVERALL WINNER: 22APPS
As you can see, 22apps triumphs over Keap (Infusionsoft), not only because of the many additional features we offer but also because our Done-For-You support is out of this world. We're here to help you succeed by offering you next-level support with your marketing!

Get your 7 day free trial of 22apps INCLUDING done for you service NOW